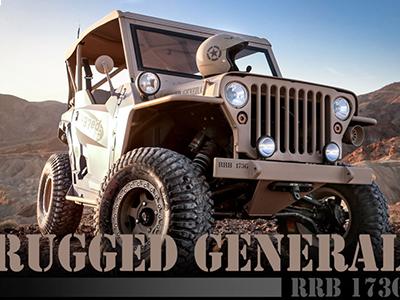 Every once in a while, you see something that makes you stop in your tracks and just stare. The new Rugged General does precisely that. This 2016 Polaris General is posing as a World War II Willys Jeep with it's historically-accurate Willys Jeep front end, flat fenders and all, sitting atop the Polaris General frame. Once again, Rugged Radios Owner, Greg Cottrell, has turned a modern UTV into a head-turning iconic vehicle.
This build was extensive, and once parked at the NVFab Shop in Grover Beach, California, Nick Valentine and his team got to work making the vision come to life. After mounting the new Willys front clip, the next challenge was to relocate the front wheels to fit. SuperATV's 3" high clearance lift kit was the solution allowing the wheels a 1.5" offset forward as well as the clearance needed to bolt up a set of 32" Ivan Stewart Edition GMZ tires on 15" Casino Beadlock Wheels. Walker Evans 2.5" shocks round out the suspension providing a much improved ride over a stock General.
Four sets of KC Hilites are mounted on the Willys front end including Amber Cyclone LEDs turn signals wired in using an XTC plug and play turn signal kit. Also on the front end of the Rugged General is a winch setup loaded with a Bubbarope 50 ft synthetic winch line and Factor55 recovery tow points. Other cool features include a PowerTank Trigger onboard air system configured to run on 2 20oz pin-valve CO2 bottles, negating the need for an onboard compressor as well as an Assault Industries Tomahawk custom steering wheel.
The Rugged General is outfitted with the finest communication equipment including the new Rugged Radios RM50-MB 50 Watt Multi-Band Radio. This radio is capable of transmitting on 4 different frequency bands including VHF, UHF, CB and HAM. The radio is paired with the RRP660 PLUS Bluetooth intercom for in-car communications using headsets or helmet kit speakers. Lastly, the dash features a Magellan Explorist TRX7 GPS which allows you to share you trail ride on social media.
The details are where this build really shines. The tailgate was removed and swapped with a spare tire and ammo can carrier to complete the look. A custom flat-top cage was handmade by NVFab, and fitted with a custom sewn canvas top. A set of beautiful PRP Premier low back canvas seats fits the build to a T. Add in custom grenade-topped shift levers, bed tilt levers, an Air Raid siren mounted up front, matching painted HJC open-face helmets, shovel, axe, ammo can storage containers, and a custom-built subwoofer box using a bed mounted ammo can and from 50 feet, most people will think this is a modified old jeep.

From a front profile, the Rugged General is unmistakably old-school. The side profile reveals a bit of an updated look, with the color-matched rocker panels tying the car together visually. It's a masterpiece in execution, and one that actually works on the trail
Build Specifications
FRAME: 2016 Polaris General 4x4
BODY: Custom with Original Jeep Willys Grill & Windshield
FABRICATION: Custom Fabrication by Nick Valentine of NVFab, Grover Beach, CA
TRANSMISSION & EXHAUST: Stock
LIGHTING: KC HiLights Amber Cyclone Turn Signals wired with an XTC Power Products Turn Signal Wire Harness,KC Gravity 7" LED Headlights, & 8" Pro Sport HID
WINCH: Stock Winch with Bubbarope 50ft Synthetic Winch Line, Factor55 Short Drum Comp Fairlead & ProLink XTV Shackle/D-Ring
MOTOR: Stock 999cc
SUSPENSION: SuperATV 3" High Clearance Lift Kit powder coated for extreme durability withWalker Evans Racing 2.5 Piggyback Coil Over Shocks & 16 Way Compression Adjusters
WHEELS & TIRES: 15" Casino GMZ Beadlock Wheels & 32" Ivan Stewart Edition Tires by GMZ
AIR SYSTEM: Powertank Trigger Air System with (2) 20oz Pin Valve Co2 Bottles
COMMUNICATIONS: Rugged Radios RRP660 PLUS Bluetooth Intercom with RM50-U/V Mobile 50-Watt Dual-Band Radio (UHF & VHF) & Magellan eXplorist TRX7 GPS
GRAPHICS: Linson Signs
INTERIOR: PRP Premier Low Back Seats in Custom Canvas & Assault Industries Tomahawk Steering Wheel & Fire Extinguisher Mounts
DETAILING: Grenade Shift Levers, Air Raid Siren, Matching HJC Half Face Helmets, Ammo Can Speaker & Storage Container, Shovel & Axe